History of the Curved Intake
The shape of the S-duct is distinctive and easily recognized, and was used in several aircraft, beginning in 1962 with the Hawker Siddeley Trident. Currently, the Dassault Falcon 7X and Dassault Falcon 900 business jets, and the Tupolev Tu-154M narrow-body airliner in limited production, are the only aircraft in production that use the S-duct design.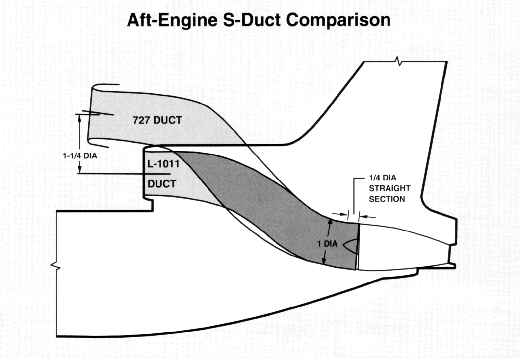 Curved air Intake is a proven technology
WE CONTROL THE AIR USING TRADITIONAL OR NOVEL WIND TUNNEL TECHNOLOGY DESIGN. HYDROGEN REQUIRES LESS OXYGEN FOR COMBUSTION THAN OTHER FUELS.

As an option this configuration might be interchanged with an "Air Chamber" employing the latest "Clean Room" technology to insure engine intake of clean air.

This chamber might be supplied by a suitable Wind Tunnel both of which would become fixed appendages to the Thrust Architecture.
Click here to return to Commissioned Papers