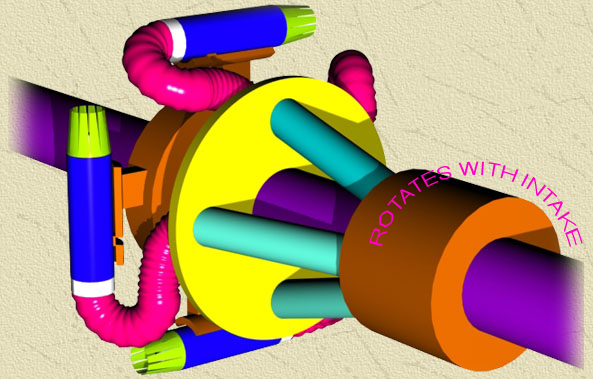 WE CONTROL THE AIR USING TRADITIONAL OR NOVEL WIND TUNNEL
TECHNOLOGY DESIGN. HYDROGEN REQUIRES LESS OXYGEN FOR
COMBUSTION THAN OTHER FUELS

As an option this configuration might be interchanged with an "Air Chamber" employing
the latest "Clean Room" technology to insure engine intake of clean air.

This chamber might be supplied by a suitable Wind Tunnel both of which would become fixed appendages to the Thrust Architecture.

A design consideration is to bleed off some of the energy generated by the rotation of the
shaft to provide a source of air intake.

For example a second smaller generator to provide auxiliary power to air compressors
that would feed air into the engine's air intake.

We have envisioned two adjoining rooms. The first room would intake ambient air and the second adjoining room to clean the air to clean room specifications and from this second room (or air chamber) the clean air would be feed into the air intake of the engines.